Growing up, my family has a tradition of hand writing holiday cards for our dearest friends and family to send our warm wishes. However, as technology advances throughout the years, with the convenience of keeping in touch through text messages and social media, we rarely write on greeting cards anymore.
One of my resolutions this Christmas is to send cards to friends that I haven't talked to for a while. I've grown to cherish the relationships I had throughout the years and wanted to send a little something to let them know that I still think of them. Right around the same time, Paperless Post reached out to me to write a review about their service. What a perfect timing!
Greeting Cards and Invitations
Paperless Post has a variety of card designs ranging from holiday cards to "save the date" cards for events and weddings. Users get to choose the patterns of the backdrop, envelope, envelope liner and stamp. It is a very personalized and customizable eCard service. On average, a card would cost 5 coins, which is equivalent to around $2.50.
After deciding the design and messages to go on the cards, users can import names and emails into an address book, and send the cards to the recipients. For event invitations, recipients also get to RSVP through the email, and the host gets to keep track of the attendance through Paperless Post.
Flyers for Events
When I threw a little Christmas dinner party last week. I decided to take advantage of the new "flyer" option on Paperless Post. It is pretty much an event invitation where you get to share through a link on messenger and get your guests to RSVP. The designs are very fun and quirky, and the moving .GIF images also make it very exciting when you first open the invitation link.
My friends were saying that I went over the top with the invitation. Little did they know that all I did was inputting my event details and voila! – they receive that cute little invitation from me.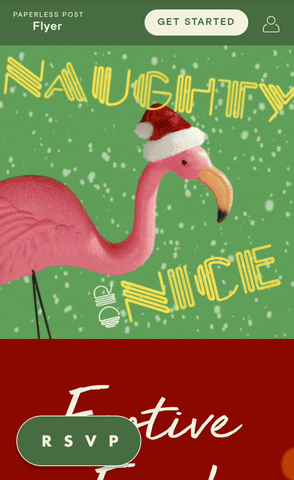 What I love about Paperless Post
1. Beautiful and classy designs
Every design is so beautiful I had so much trouble picking just one for each of my friends! The designs on Paperless Post come from a variety of top stationery designers like Rifle Paper Co and Kate Spade New York, so you can imagine how pretty the cards are.
2. User-friendly platform
The process of designing a card and sending it is very intuitive and straightforward. I also love that I get to send a test email to myself to see how the card will look like for my recipients. It helps me make sure that everything is ok before sending them!
3. Eco-friendly option
In the past few years, I have been trying to reduce the waste that I create on our mother earth. While I love receiving a heartfelt, handwritten card, the thought that these cards do not create any waste or carbon footprint makes me feel good when sending them.
4. Guest tracking for event invitation
The RSVP service and tracking process make event planning a lot more easier. I especially like the new flyer option, where I can easily send my invitation link to my WhatsApp group chats.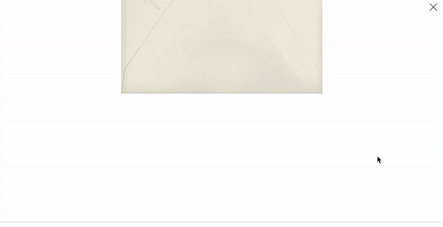 The Verdict:
I love Paperless Post. I can definitely see myself using this platform for my future events or holiday cards because of how convenient and pretty it is. If you are looking for an online eCard or guest invitation service, I highly recommend you to give Paperless Post a try. You get 25 free coins when you sign up on the platform, which allows you to send about 4-5 cards. Just enough to decide if you love it!